977 Days and Counting – A Christmas Wish
This is the story of 2 sisters, a milestone, and a Christmas wish.
The sisters are Meredith and Christina. As of today (November 29), the sisters have been in the care of the Buffalo County Humane Association for 977 days. And because they were born in one of our foster homes, those 977 days represent their entire lives to this point.
The milestone is 1,000 days. We did some calculations, and on December 23 of this year, Meredith and Christina will have spent 1,000 days in our care.
And the wish? Our Christmas wish is that the girls don't make it to that milestone. That means that we need to find them a forever home before December 23. And we're going to EVERYONE to help us make it happen.

This story begins on February 27 2016 with a phone call. A gentleman walking past a donation drop-off bin noticed a box sitting beside the bin with a tiny black-and-white head peeking out. He called, and a volunteer went to pick up the box. She found two cats that we suspected were mother and daughter. The black-and-white mom became Mary Ann and her tabby daughter became Ginger.
At their vet check, Ginger was cleared for adoption and left for her forever home about a week later. Mary Ann was healthy but pregnant, so she settled into one of our foster homes while we waited for her babies.

On March 28, Mary Ann gave us six beautiful babies, 5 girls and 1 boy. Their foster mom named them for Grey's Anatomy: Meredith, Christina, Isabelle, Calliope, Lexi, and Hank. Hank found his home almost before his eyes opened; his family just had to wait until he was old enough to leave his momma. Three of the sisters – Isabelle, Calliope, and Lexi – found their homes pretty quickly once they were old enough to go to Petco. Momma Mary Ann was with us for a year before she found a home, but she did find one. That leaves the last two, Meredith and Christina, still waiting after more than 2 years and 9 months.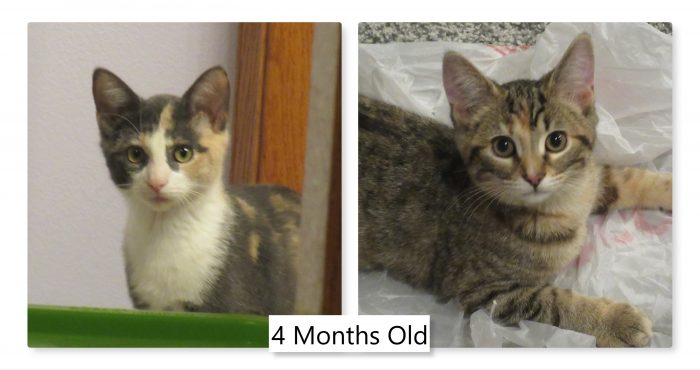 So why didn't Meredith and Christina find homes when they were kittens? (Young kittens are generally pretty easy to find home for, after all.)  It comes down to two factors. First, BCHA had an extremely busy kitten season in 2016. Mary Ann was the second of five pregnant cats that came in that spring. Altogether, they gave us 25 kittens, plus we took in a couple of litters that didn't have mommas. Second, Meredith and Christina were shy as kittens, which made it easy to overlook them with so many other kittens to choose from.
As time passed, Meredith and Christina outgrew the adorable kitten stage. They continued to be shy around people that they didn't know, so they didn't show well at our Petco adoption fairs. Eventually, we stopped taking them, because it didn't seem fair to put them through that every week (and because there were other cats who needed the space).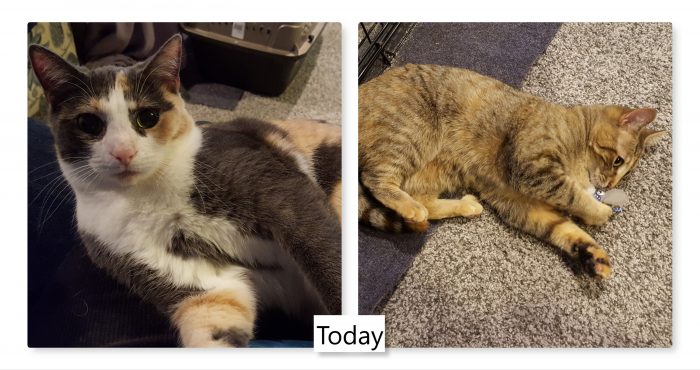 Here's what potential adopters need to know about Meredith and Christina.
Meredith has become a lap cat, at least once she gets to know you. She likes to climb into her foster mom's lap for a cuddle and enjoys a good petting and ear-scratching. Christina also enjoys a good petting and ear-scratching, but she isn't a snuggler. She's more of a watcher, keeping an eye on things from her favorite perch. The sisters will do best in a quieter home with no young children. (Older children are OK, as long as they know to let the girls come to them.) The girls would prefer to be the only animals in home. They can get along with another cat (and even have a roommate at their foster home), but it will depend upon the personality of the cat and their humans allowing plenty of time for the introduction process. Meredith and Christina continue to be a little shy around people they don't know, so some patience may be required as they settle in. That patience will be rewarded in the end, as they are affectionate and friendly once they feel comfortable.
Meredith and Christina are spayed and current on their vaccinations. Their adoption fee has been sponsored by a generous supporter, so all they need is the right family and an approved adoption application.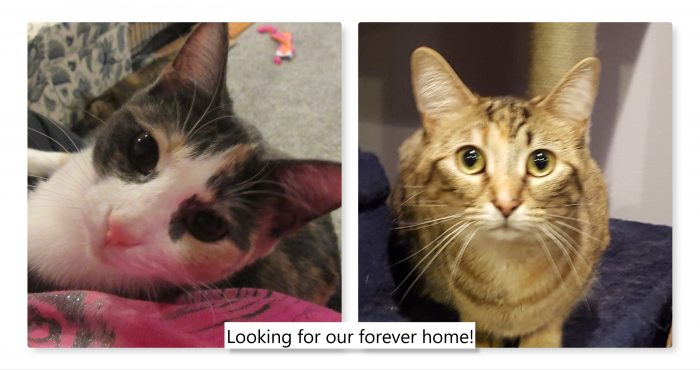 So how can you help? Consider adopting them if you able. If you aren't able to adopt, then share their story to help them find someone who is.
If every person who reads this story also shares it with their friends and contacts, then it will find its way to the family who can give Meredith and Christina the home that they deserve.
Help make our Christmas wish come true. We need these girls to find a home before December 23, so that we don't ever have to say that Meredith and Christina have been at BCHA for 1,000 days.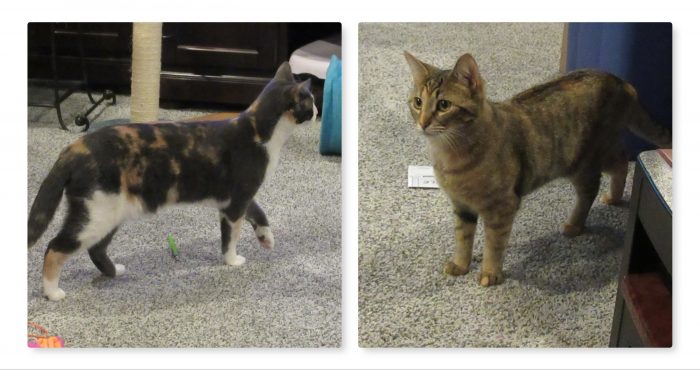 To request more information or an adoption application, please contact BCHA at bchapets@yahoo.com.
Meredith and Christina are being fostered in Eau Claire, Wisconsin, which is on the western side of the state. Eau Claire is about 90 minutes from Minneapolis, Minnesota, about 4 hours from Milwaukee, 2.5 hours from Madison, Wisconsin, and about 4 hours from Milwaukee. We are willing to transport them for the right home.
Let's make their Christmas wish come true!